New Belfast Harbour commissioners appointed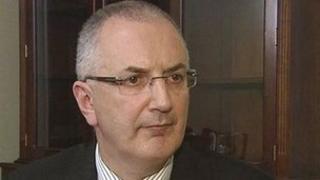 Six new members have been appointed to the Belfast Harbour Commission by the Regional Development Minister Danny Kennedy.
The Harbour Commission runs the Port of Belfast which is one of Northern Ireland's most economically important areas.
The new members include several senior business people including David Dobbin, chief executive of United Dairy Farmers, and Stephen Kingon the chairman of Northern Ireland Electricity.
The other new appointees include the property developer Gerard O'Hare who runs Newry-based Parker Green International.
The rest of the new intake are:
Rotha Johnston, a partner in Johnston Partnership, a property investment company. She is also a BBC Trustee.
Ed Vernon, a Strategic Advisor to BT Ireland and a board member of Invest NI
Christine Hayes, a business consultant who is currently studying with the Open University for a Bachelor of Arts.
Those stepping down as commissioners are: Peter Curistan, Ronnie Foreman, Mary McMahon, Steve Pollard, Samuel Ross Reed and David Russell.
The minister also announced on Monday the appointment of four Belfast city councillors to the Belfast Harbour Commissioners.
The minister said: "I welcome the appointment of Alderman David Browne, Councillor Patrick Convery, Councillor Matt Garrett, and Councillor Thomas Haire to the Belfast Harbour Commissioners.
"I believe that they will make a valuable contribution to the work of the commissioners, an important economic driver for Northern Ireland."