SDLP MLA Pat Ramsey critical of Marian Price detention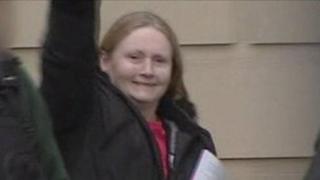 The continued detainment of alleged dissident republican Marian Price has "unintentionally provided a recruiting tool" for dissident republicans, an SDLP MLA told the assembly on Monday.
Pat Ramsey tabled a motion calling on Justice Minister David Ford to liaise with the secretary of state to review the conditions of her detention.
Price has been in custody in Maghaberry prison since May 2011, when Owen Paterson revoked the release from prison on licence of the Old Bailey bomber.
"This action provided the dissidents the opportunity again to rouse the long-held suspicion of the British justice system imposing its role on the people across Northern Ireland," Mr Ramsey said.
Ms Price, also known as Marian McGlinchey, had been charged with encouraging support for an illegal organisation, the IRA, following a dissident republican rally in Londonderry on Easter Sunday.
The judge granted her bail on that charge, although her licence was later revoked.
Internment
Speaking at the time, Mr Paterson said he made the decision because the threat posed by Price had "significantly increased".
Before members discussed the motion, Speaker William Hay warned that nothing could be said which would jeopardise the current prosecutions with the courts.
Sinn Fein's Jennifer McCann said her party had attempted to get an amendment to the motion to acknowledge republican prisoner Martin Corry.
She said she saw Price's case as "tantamount to internment without trial".
The DUP's Paul Givan, who is also chair of the justice committee, said the motion was "irresponsibly tabled by the SDLP".
"Mr Ramsey not once commented on Marian Price's history and why her licence has been revoked," he said.
He added that the secretary of state had a "duty to protect the wider interests of society".
Price was jailed for the IRA bombing of the Old Bailey in London in 1973. She was released on compassionate grounds in 1980.
Responding to the debate, Justice Minister David Ford said the revocation of the licence and the case was led by Mr Paterson and the responsibility now lay with the parole commissioners.
He said under devolution, it fell to the secretary of state to recall those released on a life licence if the rationale was determined to be of a "national security nature".
Mr Ford said he therefore had "no role" and it would be "a serious danger if this house would instruct me to do something which is outside my responsibilities".
"My opinion on this matter would carry no more weight than any other member of the assembly," he added.
He denied claims that Price's medical needs had not been addressed during her time in custody, claiming that she had been provided with the care she required.
Mr Ford also explained that Price had been placed in Maghaberry - an all-male prison - as she was seen to be high risk and Hydebank Wood Women's Prison was deemed unsuitable.
The motion was rejected.