'Move out' scam radon letters order householders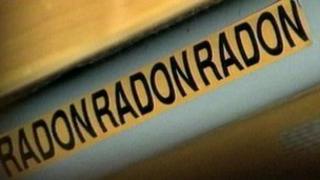 An elaborate hoax letter purporting to be from Northern Ireland's health minister instructs people to get out of their homes for radon gas tests.
Scam letters sent to householders in Newry say they should leave for three days from 13 February.
Anyone who receives such a letter has been urged to contact police.
The letter is on official government paper and carries the fake signature of health minister Edwin Poots.
It tells people they should remove all fixtures and fittings from the ground floor of their homes to allow tests to be carried out.
John Farrell, director of environment and health at Newry City Council, said the people who sent the letters had gone to great lengths to make them look authentic.
"Someone has gone to a lot of trouble and used official Department of Health and Social Services headed paper," he said.
Mr Farrell said the aim was to get people to leave their homes. In similar scams in the UK, householders had returned to find their property had been stolen.
"This is a scam, no such letter was sent by the department and anyone who receives such a letter should contact the police," he said.
"No-one should allow anyone into their home if they do not know them."
The letter warns that chemicals used to check for radon can leave a "very unpleasant odour".
"If you develop a facial rash, or experience nausea or vomiting during this period, you should consult your doctor at once," the letter states.
Mr Farrell said he was concerned that the elderly and the vulnerable were being targeted in what was a very elaborate hoax.
"The content of the letter preys on people's fears," he said, urging anyone who receives one to contact the police.
The Department of Health and police are investigating the scam. So far, three people have reported receiving the letters.
Radon is a natural radioactive gas which is believed to be linked to lung cancer. It seeps from the ground into all buildings to some extent.
Concentrations of radon inside buildings depend on a number of factors, including the local geology, the type of foundation, the positioning of service pipe work and internal ventilation levels.
The Northern Ireland Environment Agency has published maps showing which areas of Northern Ireland are at risk of having higher radon levels.