Woman is raped by two men at leisure centre in west Belfast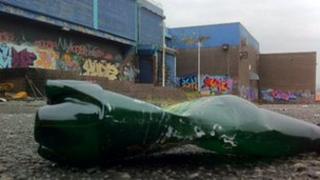 A woman has been raped in the grounds of a disused leisure centre in west Belfast.
She was attacked by two men in the grounds of the Beechmount Leisure Centre in the early hours of Monday morning.
Her attackers were in their 20s.
Police want to talk to two women whom the victim approached for help on the Falls Road, close to the junction with La Salle Drive.
One of the men is described as being 5ft 4in tall, of medium build with brown short hair and was wearing a grey hoodie and dark jeans.
The other man is described as being 5ft 7in of thin build and was wearing dark clothing.
Councillor Steven Corr, Sinn Fein, who sits on the West Belfast Community Safety Forum, said the derelict site was a magnet for under-age drinkers.
"The site has become rundown and derelict. We are seeking to get it properly securely and closed off. It has become an anti-social hot spot where drinkers congregate. Young people are drinking and taking drugs and this can turn into something serious like what happened yesterday."
Mr Corr said the forum was working to secure derelict sites and work to turn them into positive venues.
He appealed to people with information about the rape to talk to police.