UVF supergrass case judge considers verdict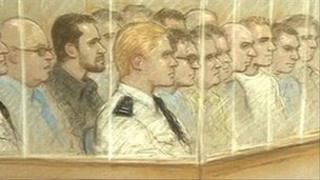 Almost five months after it opened, the judge at the UVF supergrass trial in Belfast has retired to consider his verdict.
At 71 days the trial is one of the longest and most expensive in Northern Ireland's legal history.
It relied on the the evidence of two so-called supergrasses, brothers Robert and Ian Stewart.
Thirteen men are charged with more than 30 offences including murder, kidnapping, and UVF membership.
They include the alleged former UVF leader in north Belfast Mark Haddock.
Last week a 14th defendant, David Jason Smart, 38, from Milewater Close, Newtownabbey, was freed from the dock after the court heard that the prosecution were not challenging the judge's ruling that he had no case to answer.
They also did not challenge the judge's decision to acquit several others of involvement in two punishment beatings.
However, at the time Mr Justice Gillen said his finding on those charges did not apply to the evidence of the Stewart brothers relating to the murder of UDA man Tommy English in Newtownabbey, another punishment beating and to the allegations of UVF membership.
Accused of Mr English's murder along with Mark Haddock are David Miller, 40; Alex Wood, 35, John Bond, 45, Darren Moore, 42, Ronald Bowe, 35, Samuel Higgins, 35, Jason Loughlin, 36, and Philip Laffin, 34.
They also face other charges including UVF membership, wounding, possessing guns and hijacking.
The four who deny offences such as assisting offenders and perverting justice are William Hinds, 46, David McCrum, 32, Mark Thompson, 37, and Neil Pollock, 36.
The trial began last September.
Much of it has been taken up by the testimonies of Robert Stewart and his brother Ian.
They have admitted UVF membership, and already served more than three years for their part in the murder of Mr English on Halloween night 2000.
He was shot dead in front of his wife and children at his home on the Ballyduff estate at the height of a loyalist feud between the UVF and UDA.
Under the Serious Organised Crime and Police Act, the Stewarts have signed an agreement committing them to giving truthful evidence about the men in the dock.
In such cases, so-called "assisting offenders" can have their sentences reduced in return.
In the case of the Stewart brothers, both have avoided the prospect of a further 19 years in jail, providing they are seen to have kept the agreement.
They handed themselves in to police in August 2008, and underwent more than 330 police interviews in total, some of them at secret addresses outside Northern Ireland.
In court on Tuesday a barrister argued that their lives had been characterised by "deceit, self-interest and gratuitous violence."
This is a diplock trial, meaning the Mr Justice Gillen acts as both Judge and Jury.
He told the court he would deliver his judgement as soon as possible.
The outcome of the trial is of importance to the Historical Enquiries Team of the Police Service of Northern Ireland, and the Public Prosecution Service, which is said to be considering other prosecutions using assisting offenders.