Former Beechmount Leisure Centre 'anti-social hot-spot'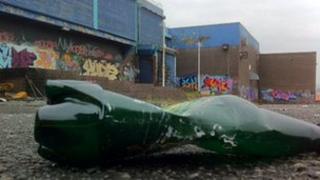 A derelict leisure centre where a woman was raped has been described as the number one hot-spot for anti-social behaviour in west Belfast.
The woman was attacked in the grounds of the Beechmount Leisure Centre in the early hours of Monday.
She was attacked by two men said to be aged in their 20s.
The former Beechmount complex is used as an outdoor drinking den and attracts up to 100 young people at weekends.
It was closed just over three years ago and has lain semi-derelict ever since.
The site is easily accessible and there have been calls for it to be secured pending its redevelopment.
'Ugly turn of events'
Sinn Fein councillor for the Lower Falls, Steven Corr said: "The site has become rundown and derelict. We are seeking to get it properly securely and closed off. It has become an anti-social hot-spot where drinkers congregate.
"Young people are drinking and taking drugs and this can turn into something serious like what happened yesterday.
"We have been working with local stakeholders to try and resolve this issue, and this ugly turn of events will strengthen our resolve for a long-term solution.
"In the meantime, I would call on local parents especially, to exercise parental control and ensure that their children are not in, on or around this site."
The site was transferred to the ownership of a local school overlooking the site which wants to develop playing fields, but can't because there is no money for such a big capital project right now.
It is accepted that it is not an easy place for police to patrol, as they would have to do it in the dark and on foot.
The woman ran to the Falls Road to get help after the attack.
One of the attackers was described as being about 5ft 4in tall, the other about 5ft 7in.
Detectives have appealed for information about the rape.
They especially want to talk to two women who helped the victim the night she was attacked.