Dungannon man appeals attempted murder with taxi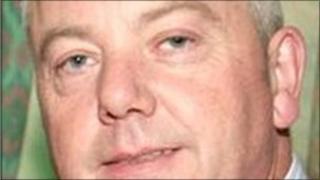 A Dungannon man who drove a car into two women who were tending to a dying man should have his sentence reduced, the Court of Appeal has heard.
Kevin Toye, from Windmill Court, was ordered to serve a minimum of 10 years for attempted murder.
The hijacked taxi hit Martina Donaghy and her daughter Emma as they tended to Eamon Hughes in September 2008.
Mr Hughes was stabbed in the chest as he walked home from his daughter's 18th birthday party in Dungannon.
Lawyers for Mr Towe disputed claims that he deliberately swerved the car into the women.
Four men were jailed last year following a non-jury trial for offences connected to the attack on the Lisnahull Road.
Martin Murray, 25, formerly of Windmill Drive in the town, was found guilty of murdering the father-of-four and sentenced to at least 18 years in prison.
Murray's cousin, 25-year-old Liam Murray, was sentenced to at least five years for affray.
William McDonagh, 26, from Ballymena, was jailed for eight years also for affray and ordered to spent an extra five years on licence.
Martin Murray and Toye are appealing against their convictions, while Liam Murray and McDonagh are challenging the sentences handed down.
'Intent to kill'
Eye witnesses gave evidence that the hijacked taxi driven by Toye hit Martina and Emma Donaghy at speed and narrowly missed Mr Hughes head.
Both women suffered leg fractures and had to undergo surgery. Toye claimed he had not seen them and denied swerving to hit anybody.
His senior counsel accepted it was "deeply reprehensible" to drive into a group of people on the road.
But referring to the trial judge's handling of the case, Terry McDonald QC said: "He did not mention the possibility of recklessness as opposed to intent."
It was contended that even worse injuries would have been inflicted if the car had veered intentionally off its course.
"It it had swerved the carnage could have been even more grisly," according to Mr McDonald.
He said Mr Hughes' body would have been "further violated" while his wife Eileen could also have been killed.
The barrister contended, however: "The evidence in this case does not support the proposition that the vehicle was driven at them in the sense that there was an intent to kill."
A panel of three senior judges hearing the appeal were expected to reserve their decisions after hearing all submissions.