Northern Ireland farm theft insurance claims rise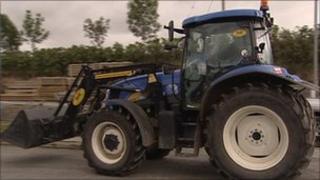 There has been a marked increase in the number of claims for stolen machinery according to the latest figures from countryside insurers.
Almost £2m has been paid out to farmers who were victims of theft in the past three years by NI's main farm insurer.
Last week about 35 farmers attended a meeting in Ballymena to tell local police of their concerns
According to insurers the items most likely to be stolen from farms are tools, tractors and quad bikes.
Farmers in County Antrim said they are concerned the police are not doing enough to tackle rural crime and it is leaving them vulnerable.
Brian McGaughey, who runs a farm in south Antrim, said he has been targeted on several occasions.
"We have had two items of heavy plant burnt out, the sheds have been done over twice - one time we lost a power hose worth £1,200 and every spanner and power tool I had, which I lost again about three years later.
"It's very upsetting that something is going missing that you need and to try and get it replaced takes time," he said.
"You're also vulnerable. At certain times of the year we're out in the yard during the night, you do not know who's round that corner.
"Farmers are not shy about standing up for themselves. I'm scared somebody is going to get hurt.
Brian said his neighbours have also been targeted. One has lost upwards of 13 quad bikes.
Mr McGaughey said he believed the thieves are part of an organised gang and that they could be deterred if there was more of a police presence in rural areas.
Justice minister and MLA for South Antrim David Ford said he sympathised with those living rural communities and accepted it is a problem, but said the police were doing a lot of good work in rural areas.
However, he added: "Obviously we cannot have a policeman always available everywhere where people might feel there is a risk."
The Ulster Farmers Union is working alongside the police at farm property and trailer marking events where the police put security identity marks on machinery and register them so they are easier to check and trace.
In some areas the police are also using a text alert scheme to warn residents of incidents in their areas.