Potatoes no longer big pay day for local farmers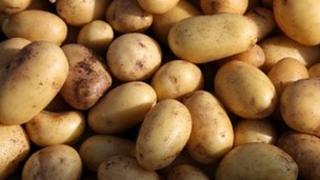 Local potato growers say a market glut has caused prices to crash and some banks to withdraw credit for the coming season.
It once was our staple food but these days the potato is struggling to compete with likes of pasta and rice.
It used to be the most lucrative crop grown on Northern Ireland farms but not any more.
These are difficult times for the small band of farmers still willing to gamble on the £2,000 an acre it costs for the seed, fertiliser and fuel needed to grow and harvest potatoes.
Financially the latest crop has proved a disaster and farm gate prices have fallen by as much as 30%.
Last winter surplus potatoes were shipped to Russia but similar orders have failed to materialise this time around.
Here at home consumer demand is down by almost 10% this year.
And even at bargain prices the potato is facing stiff competition from buoyant pasta sales.
Already nursing heavy losses from the potato crop they harvested last autumn some farmers say banks are reluctant to provide finance again this spring.