Education department special needs review due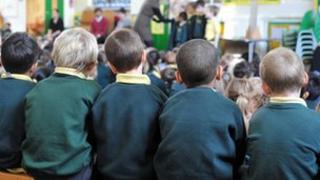 Education Minister John O'Dowd has said changes made to the way special education needs services are allocated in Northern Ireland will make the system less complex.
The Department of Education is axing the statements which guarantee extra help to pupils with special needs.
In a consultation, only 10% of the 3,000 responses approved of the change.
Mr O'Dowd said it is currently a five-stage process and the changes will make it more streamlined.
"I fully understand those parents who have responded to the consultation and said 'no it was hard enough getting this statement, you're not taking it off me'.
"What I'm saying to those parents is the changes I'm bringing in place will protect your child's education in legislation the same way the statement does.
"I also have to think of those families who are coming into the system - let's make it a far less complex process that it normally is."
He also said the changes were not aimed at closing special education needs schools.
"We are not on an agenda to close special educational needs schools," he said.
The Special Educational Needs Review began two-and-a-half years ago.
But the government is only now bringing forward its plans, to change what is described as out-of-date legislation.
Some of these have been altered in response to complaints from parents and disability groups. But the main proposal of replacing the "statements" remains.
They can take a long time to achieve but can open the door to a lot of extra help for special needs pupils.
In the new system, only pupils in special schools or with serious needs will get a new "Co-ordinated Support Plan" or CSP and schools will be expected to spot most problems and provide help for children.
Pre-school education will spot problems early and 10 pilot schemes are working on that now.
Thirty-eight per cent of post primary schools were judged to fall short in their provision for special needs.
In the future, the department plans to have only two stages on the way to getting the CSP replacement for a statement, which at the moment has five stages and is said to be too bureaucratic. The process will be speeded up with a time limit of 20 weeks, instead of 26 weeks.
At present the statements must be reviewed every year, and that is said to be too bureaucratic and time consuming. In future, there would simply be a meeting between parent and school principal and a formal review only where one of them requests it.
The Department of Education said the main aim is to change the mind-set among parents that only a "statement" of special needs can give adequate help to their children.
Instead it wants to make sure that all children can be high achievers according to their ability and are helped to achieve the best results.