What next for the Ulster Unionist leader?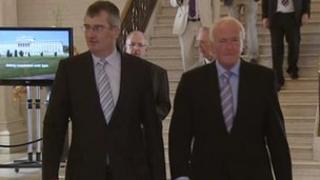 A caller to BBC's Talkback programme described the Ulster Unionists as the "kamikaze party". It was an apt description.
Apt too perhaps that the assembly team's chief whip, John McCallister, is in Washington this week at the National Prayer Breakfast, a gathering that attracts US Presidents, such as Barack Obama.
The party could use some prayer. It cannot afford another power struggle. Its internal battles have proved costly, draining its power, along with votes and personnel. MPs Jeffrey Donaldson and Lady Hermon, to name but two.
If very public rows worked at the ballot box, Tom Elliott would be first minister for life. Alas, the reverse is the case, and Stormont is rife with rumour, claim and spin over who is in what camp this time.
Mr Elliott appears an innocent abroad in all of this. Indeed, David McNarry - the latest to quit the assembly team - has warned the leader is vulnerable.
Mr McNarry has accused Mr Elliott of betraying him, after he demoted him, apparently for going too far in a Belfast Telegraph interview on closer links with the DUP. Mr McNarry said he has acted with the leader's full knowledge.
Now he warned the leader is imprisoned in a power struggle, between two competing agendas. Just the two, I wanted to say?
The agendas he is referring to are those who favour opposition at Stormont, and those who want to stay in the executive and forge closer links with the DUP.
Mr McNarry did not name the personalities involved. But it is no secret there are opposing views in the party.
Basil McCrea, the MLA Mr Elliott defeated in the last leadership battle, believes the best course is opposition. Danny Kennedy, MLA for Armagh, is a dedicated minister who has been involved in meetings with the DUP.
That is not to say that Mr Elliott has anything to fear from either of these players. Indeed, both held a press conference, united, to defend the leader.
Mr Kennedy said on Monday: "Tom's position is not negotiable. He is showing leadership and attempting to give leadership. Not everyone it appears is willing to accept that."
Still, Mr McNarry said he himself is a casualty of these competing agendas, hinting the leader could be next.
Does Mr Elliott have anything to fear from Mr McNarry - who has oscillated between that of a hurt victim on BBC to that of angry avenger in the Belfast Telegraph. "This will be a 15 round fight," he declared. The 15 round fight went to 12 rounds in the 1980s - but who's counting?
Mr McNarry is biding his time, waiting to pounce, should Mr Elliott say something at odds with evidence he has about the DUP - UUP talks. Mr Elliott has nothing to fear as long as the account he has given to his party - that he had four meetings on subjects such as justice and council boundaries - is accurate.
Any evidence to the contrary could damage his credibility - and there are forces waiting for an opportunity.
Ides of March
Mr McNarry's claim that, as part of the UUP - DUP initiative, he was one of a panel of four - also purported to include the UUP leader, its chairman David Campbell and Danny Kennedy - has raised questions. Mr Elliott told me there was no panel and suggested this may be word games.
In Mr Elliott's favour is his Fermanagh base: he was elected with the support of the so-called Fermanagh mafia. The Fermanagh delegates have the clout to determine the leader, because of their sheer numbers.
Some point to Mike Nesbitt, MLA for Strangford, as being someone to watch. He was awarded Mr McNarry's old job on the education committee - and his star appears on the rise. He is on record as saying he would never challenge Mr Elliott - something he repeated in an interview for Stormont Today.
But if the leader were to go, that is a different matter.
Mr Elliott is in the same position of his predecessors, trying to keep opposing factions happy.
That takes some political skill, cunning and ruthlessness - the kind that Jeffrey Donaldson had. "Jeffrey is the leader they lost," one wag commented to me this week.
He's in the DUP now.
"Will Tom survive?" I asked a party veteran on Tuesday afternoon. "I don't know. The party's in a bad place right now," was the reply.
Some think another perhaps final split is inevitable. The Ulster Unionists won 16 seats at the last assembly election. They're down to 15. Who would take a bet they will finish the term with 15?
A new Conservative Party launched on Tuesday, and there are whispers of defections to this or some other unionist brand.
Mr McNarry fell from grace inside a week. Mr Elliott could not be blamed for feeling a little nervous, as the party's annual general meeting approaches on 31 March.
That's when the leadership comes up for renewal. At least it isn't the Ides of March. But who's counting?