David McNarry's anger over UUP decision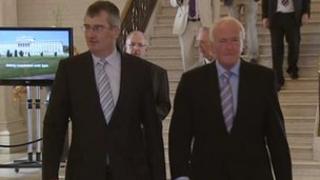 David McNarry has said he feels hurt by the way he has been treated by the Ulster Unionist party.
The Strangford MLA quit the Ulster Unionist group in the assembly in a dispute with the party leader Tom Elliott about an interview he gave to a newspaper.
Mr McNarry said on BBC Radio Ulster's Nolan Show he was determined to put the record straight.
"I have been accused in the wrong," he said.
"I have been set up to satisfy some very voracious appetites to get rid of me.
"But at the end of the day this is politics, it's a very dirty game.
"I have experienced that level of it now."
The UUP's Mike Nesbitt has replaced Mr McNarry as deputy chair of the assembly's education committee.
Mr McNarry announced on Friday he was quitting the UUP assembly team after being removed from his post on the committee.
On Monday, Mr Elliott said he demoted Mr McNarry because he went too far in a newspaper interview.
He said he had disciplined Mr McNarry after he told the Belfast Telegraph that a UUP junior minister could work under a DUP first minister.
In response, Mr McNarry refuted Mr Elliott's version of events and told the BBC's Stormont Today programme that the Ulster Unionist leader had become the prisoner of a power struggle within the party.
Meanwhile, in a separate development, Lesley Macaulay who stood as a candidate for the UUP in the last assembly election, has become a member of the Northern Ireland Conservatives.
She has been joined by former Ulster Unionist Party officer Bill Manwaring.
Mr Manwaring who was the West Belfast spokesman for the party before he quit last December, said the UUP cannot deliver the kind of policies and services he entered politics to pursue.