Stephen Carroll murder accused witnessed at murder scene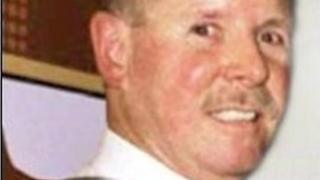 The trial of two men accused of killing Constable Stephen Carroll has heard one of them was at the scene of the shooting shortly before it took place.
Constable Carroll was the first PSNI officer to be murdered when he was shot dead in Craigavon in March 2009.
The man, known as witness M, gave his evidence via videolink and identified 40-year-old Brendan McConville.
He said Mr McConville was standing close to where the prosecution claims the gun was fired 30 minutes later.
Witness M had been out walking his dog with his family.
He told a prosecuting lawyer he had known Mr McConville since the former Sinn Fein councilllor was a child and that he saw him twice that night - once on the way to his destination and again on the way back.
He told the lawyer he first saw him shortly after 7pm standing with four other men and then again on the way back, some time between 9pm and 9.30pm, this time standing with two other men.
The man also said he was later threatened by two men who came to his home warning him to "keep his mouth shut". This encouraged him to go to the police.
Under cross examination from Mr McConville's defence QC Brendan Kelly, witness M denied that he had ever been described as a "Walter Mitty" style character who would "tell tales or fibs".
He also denied having problems with his eyesight and with alcohol.
Both Mr McConville, from Aldervale, Tullygally, and his co-accused John Paul Wootton, 20, of Collindale, Lurgan, deny the murder of Constable Carroll.
Mr Wootton's 39-year-old mother Sharon denies perverting the course of justice by removing a computer from her home following the shooting.