DUP supports welfare payments cap says Nigel Dodds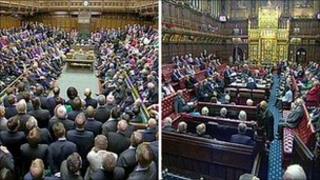 DUP MP Nigel Dodds has told Prime Minister David Cameron that his party supports government plans to put a cap on benefit payments.
The North Belfast MP was speaking as MPs prepared to debate reforms to the welfare system.
Nigel Dodds said his party had concerns over the way cancer patients and the disabled were being treated.
But Sinn Fein's Mickey Brady said Mr Dodds and his colleagues "had a cheek" voting with the government.
"I doubt if Nigel or any of his colleagues who sit in the British House of Commons will ever have to experience the difficulties of having to raise a family on benefits," said Mr Brady.
"The imposition of the Tory coalitions Welfare Reform Bill will hit the north of Ireland the hardest.
"North Belfast, which Nigel Dodds claims to represent, is well within the top 20 most deprived wards."
'Right and fair'
Mr Dodds had appealed for more parliamentary time to debate the reforms.
In response Mr Cameron said he welcomed the DUP support.
He also said extra help was being made available to cancer patients and others with disabilities.
Earlier, the SDLP MP Margaret Ritchie said changes to the welfare system would hit low and middle income families
Later the prime minister said welfare changes are "right and fair" and challenged Labour to support the government's benefit cap plan.
The £26,000-a-year cap is one of seven areas on which the Welfare Reform Bill has suffered defeats in the Lords.
The bill has now returned to the Commons as ministers say they are determined to get their plans through.
Labour have said they support the benefit cap in principle - but want changes to the way it is implemented.