Mussels preservation project granted £30,000 lottery funding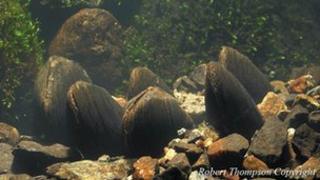 A County Antrim conservation scheme trying to save one of Ireland's oldest species has been granted over £30,000 by the Heritage Lottery Fund.
Ballinderry Fish Hatchery Limited is aiming to preserve the freshwater pearl mussel, which has been found in Ireland for more than 10,000 years.
The species could be extinct in 30 years without the correct intervention.
The grant will be used to develop more detailed proposals for preserving the mussel and protecting its future.
The lottery money will also help the scheme prepare to apply for even greater funding of £362,400 from the Heritage Lottery Fund.
The freshwater pearl mussel is a relic from the Ice Age. Its microscopic larvae attaches to the gills of young trout or salmon and develop before falling off and burrowing into the river gravel.
The Upper Ballinderry River is designated as a Special Area of Conservation due to the presence of the mussels.
The conservation project focuses on improving the habitat of the river and establishing a breeding programme to increase the number of pearl mussels.
Alan Keys, from Ballinderry Fish Hatchery Limited, said: "We designed this new project around exactly what the Ballinderry pearl mussels need now, and into the future.
"Our funders, the Heritage Lottery Fund and the Northern Ireland Environment Agency, also recognise that we must now build on our successful 15-year-old breeding and rearing project at the hatchery."
The head of Heritage Lottery Fund in Northern Ireland, Paul Mullan, said: "This fantastic conservation project aims to save the freshwater pearl mussel from extinction and improve the water quality of the Ballinderry River, and is hugely important in terms of preserving our natural heritage for future generations.
"We are delighted to have offered our initial support to the proposals and look forward to receiving the fully developed plans in due course."