Organised gang 'targeted pensioners' in Down and Armagh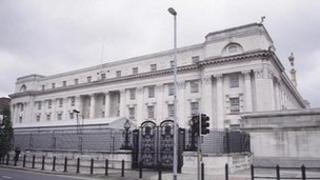 Pensioners' homes have been targeted in burglaries carried out by an organised gang, the High Court has been told.
Intruders tricked their way into a 97-year-old woman's house in one of four raids carried out on the same day in Counties Down and Armagh.
Details emerged as bail was refused to a man accused of being involved.
Bernard Ward, of The Demense, Carnagat, Newry, faces charges of burglary, attempted burglary and going equipped for theft on January 26.
The 30-year-old is also accused of failing to stop for police and dangerous driving in connection with an incident where a car drove through a vehicle checkpoint, injuring a PSNI officer, on the same date.
Mr Ward, who denies the charges, was refused bail due to the risk of interference with witnesses and further offences.
The court was told jewellery was stolen from a property in Dromore belonging to a couple in their 60s.
Less than an hour later three men using false identification to claim they were from the Water Service went into the home of an 87-year-old woman on the Greencastle Road, Kilkeel.
They left after the victim became suspicious and checked their vehicle.
£200 missing
Later the same day an 81-year-old man at Mill Street, Tandragee refused entry to two men claiming they were in the area to rent property.
Less than half an hour after that a 97-year-old woman let a man talking excitably into her home at Ballymore Road in the village.
Although she could not make him out properly due to hearing difficulties, the court heard he went into a bedroom before a second man appeared.
When the intruders left the pensioner noticed her handbag and £200 in cash was missing.
Opposing bail for Mr Ward, who was arrested with a co-accused following a dangerous driving incident, the prosecution barrister said: "We believe that he is part of a gang that has been committing organised targeting of particularly elderly and vulnerable individuals in this jurisdiction."
A defence lawyer stressed that his client denied all the charges against him.
He said Mr Ward only came into contact with an Audi car linked to all the incidents after hearing police sirens while collecting scrap metal.
The accused claimed to have heard a collision and went to the scene fearing it was a young boy he had earlier seen on a horse and cart.
"This applicant had become embroiled in some sort of struggle with one of the occupants of the car in order to prevent it causing any further potential injury to children ion the local area," his barrister said.
But Mr Justice Gillen held that there was a strong prima facie case against Mr Ward which would be determined at trial.
Refusing bail, he said: "I'm satisfied there is every likelihood that this man could interfere with witnesses."