Police use Taser on Rottweiler after north Belfast attacks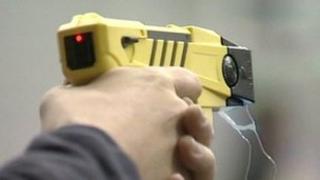 Police fired a Taser at a Rottweiler dog which attacked an officer and a member of the public in north Belfast.
At around 01:25 GMT on Wednesday, it was reported that a dog had attacked members of the public, leaving one man injured and unconscious in a house.
A policewoman who arrived at the scene in Oakley Street was bitten by the dog, suffering injuries to her hands which will require surgery.
After using a Taser on it, officers took the dog to a warden.
The man who was knocked unconscious was taken to hospital where his injuries are not thought to be life-threatening.
The dog was not injured and the circumstances of the incident are being investigated.
Chief Inspector Andy Freeburn said: "Police officers are often called into very difficult and dangerous situations and this was one such incident.
"It is a credit to the young constables that they so readily put their own lives at risk to save others.
"I am deeply humbled by their bravery and courage and I wish the member of the public and our colleague a full and speedy recovery".