Dublin body bag murder suspect found dead in Kent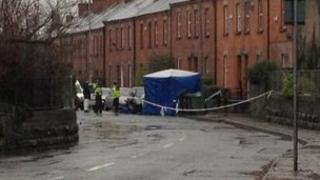 The main suspect for the murder of a Malawian woman, whose body was found in a travel bag in Dublin, has been found dead in England.
The body of 26-year-old Rudo Mawere was discovered last Sunday at Blackhorse Avenue. It is believed the bag may have been there for 13 hours.
Irish police (garda) had been searching for an African man who was in a relationship with her. On Wednesday, they were told he had died.
It is thought he died in Kent.
UK police contacted their counterparts in Ireland after the suspect's body was discovered in Higham, Kent, shortly after 09:00 GMT on Wednesday.
A garda source told the Press Association the dead man was wanted as a prime suspect in the killing of Ms Mawere on Saturday evening.
Flat searched
"This is a significant development," the source said.
"A number of further inquiries have to be completed at this stage."
It is understood foul play is not suspected in the man's death.
He was thought to have been living in Coventry and there is speculation he fled from the Irish Republic through Northern Ireland.
Gardai searched his flat on Aughrim Street earlier this week, but he had fled the country. The flat was about 1km from where the body was discovered.
Ms Mawere, a student, had been living in Ireland for the past two years. A post-mortem examination showed she had died from asphyxiation.
Gardai are trying to establish whether Ms Mawere was killed in the flat.