Three prison officers suspended after escape attempt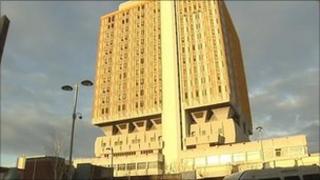 Three prison officers have been suspended from duty following a recent escape attempt by a prisoner.
Justice Minister David Ford revealed the action had been taken against the officers while answering a written question from Lord Maurice Morrow.
The prisoner, who is held at Maghaberry jail, attempted to escape on 3 January while being taken for an appointment at Belfast City Hospital.
A member of prison staff injured his hand in the incident.
Mr Ford said the exact circumstances of the escape attempt were being investigated by a senior governor from the Prison Service.
"I am assured that this investigation is nearing conclusion," he said.
"It would not be appropriate for me to comment on the circumstances until the investigation is completed."
Lord Morrow also tabled a question asking the justice minister how many prisoners had failed to return to custody after Christmas.
Mr Ford said that of those who were granted leave, one young offender and two prisoners failed to return on the required date. Two returned a day late and the third three days late.
Four prisoners also failed to abide by their home leave conditions and three were returned to custody early for either alcohol-related offences or breaching their curfew.