Two men arrested during badger baiting investigation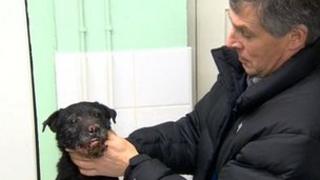 A 58-year-old man arrested following an investigation into animal cruelty and alleged badger baiting in County Down has been released on bail.
Another 33-year-old man has appeared in court charged with cruelty offences as a result of PSNI investigations.
The PSNI and the USPCA were involved in the operation and have seized a dog with severe injuries to its head.
A number of searches have taken place in the Lawrencetown area, and four more terriers have been seized.
The investigation is part of a nationwide police operation, aimed at stopping badger cruelty.
Police and USPCA have carried out five searches in total in the Banbridge, Gilford, Lawrencetown and Rostrevor areas over the last few weeks.
Police said that nine dogs had been seized, five of which had serious injuries. There have also been a number of vehicles seized as well as equipment.
BBC NI district journalist Gordon Adair accompanied a vet as he examined the dog seized on Wednesday night.
"The dog really is horrifically injured," he said.
"The dog has had its lower jaw ripped off, it has several teeth missing and part of its ear is missing.
"Both the police and the USPCA believe that this dog has been involved in badger persecution."
A specialist vet from Scotland confirmed that the injuries to the dog were caused by a badger.
Apart from the suffering endured by dogs being used in the activity of badger digging, it is illegal to take, injure or kill any badger or indeed interfere with any badger set.
You can see more of Gordon Adair's report on this story on BBC Newsline at 18:30 on BBC1.