Sean Quinn's family face fresh court battle with Anglo bank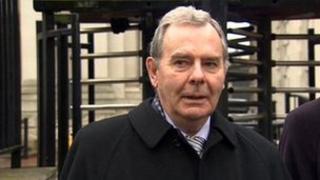 Fermanagh businessman Sean Quinn's wife and children are challenging claims that they must repay loans of more than £2bn.
A High Court battle with the former Anglo Irish bank is due to begin in Dublin later.
If Mr Quinn's wife and children lose, they could follow Mr Quinn into bankruptcy.
He was bankrupted in January over a debt owed to the bank, now the Irish Bank Resolution Corporation.
He was once believed to be the richest person in Ireland.
In the latest court case, Mr Quinn's wife, Patricia and her children will claim huge loans made to them by the bank are invalid because the money lent was "tainted with illegality".
They claim that it was effectively used as part of a complicated gamble with the aim of propping up the bank's share price.