Officer bitten by rottweiler has surgery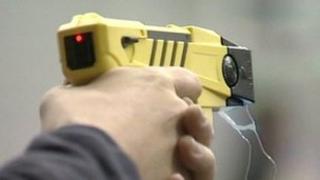 A police officer bitten by a dog in Belfast on Wednesday has had surgery.
The officer and her colleagues were in Oakley Street when they were flagged down by a member of the public and told a man had collapsed in a nearby house.
On entering the house they found the rottweiler near the unconscious man.
Chief Inspector Andy Freeburn said the officer was bitten when she placed herself between the man and the Rottweiler. The dog was tasered to bring it under control.
"The surgery has gone well, but she is still in a lot of pain," he said.
"The was quite significant damage to her left hand, to tendons and veins in her hand and she did undergo some plastic surgery."
Ch Insp Freeburn said the dog was "clearly out of control".
"The officers tried to remove the dog from the house, they put themselves in between this dangerous dog and the man who clearly couldn't defend himself," he said.
"There were unable to bring it under control and called our armed response vehicles who were able to come and assist.
"They used a taser, that was seen to be the very lowest form of force that they could use to bring this dog under control."
The dog was leashed and handed over to the dog warden.
The man who was unconscious was taken to hospital where his injuries are not thought to be life-threatening.
The dog was not injured.