David McNarry facing UUP disciplinary action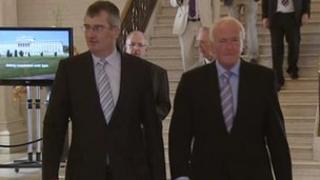 Strangford MLA David McNarry is to face disciplinary action by the Ulster Unionist Party.
He resigned from the party's assembly group last week after being removed as vice-chair of the assembly's education committee by UUP leader Tom Elliott.
In an interview on BBC Radio Ulster's Nolan Show on Wednesday, Mr McNarry said Mr Elliott did not know what he was doing as leader.
He said he was hurt by the way he had been treated.
The UUP chairman David Campbell said a disciplinary committee would be asked to examine "alleged indiscipline and breaches of party confidentiality" by Mr McNarry, as well as "other associated allegations of indiscipline, including breaches of confidentiality by other party members".
Mr Campbell said the committee would report in due course to party officers.
The UUP's Mike Nesbitt has replaced Mr McNarry as deputy chair of the assembly's education committee.
Mr McNarry announced on Friday he was quitting the UUP assembly team after being removed from his post on the committee.
On Monday, Mr Elliott said he demoted Mr McNarry because he went too far in a newspaper interview.
He said he had disciplined Mr McNarry after he told the Belfast Telegraph that a UUP junior minister could work under a DUP first minister.
In response, Mr McNarry refuted Mr Elliott's version of events and told the BBC's Stormont Today programme that the Ulster Unionist leader had become the prisoner of a power struggle within the party.