Police paid £41m to Grafton Recruitment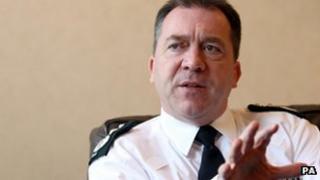 It has emerged that the police has paid £41m to a recruitment agency during the past three years.
Grafton Recruitment is the sole provider of temporary staff for the police.
The money it was paid included the cost of salaries for the staff as well as agency fees.
Most of the staff members it supplied are retired police officers.
The rehiring of retired police officers dominated Thursday's meeting of the policing board.
At the meeting, PSNI chief constable Matt Baggott defended the practice.
"I don't see anything that's been done without the right motivation and the right integrity, to manage half the resources, twice the demand, reducing numbers," he said.
"7,900 people left this organisation in the last 10 years, it's more than we actually have in our entire police establishment.
"Sometimes unique times call for unique measures."
Mr Baggott acknowledged that the whole process might not have been entirely "open and transparent".
"Can I stand over every single case in the last 10 years with a very devolved, delegated regime where financial budgets were given out to a whole range of people to manage themselves?
"Do you know something, probably not, but I think those cases would be very limited."
The PSNI said it plans to reduce its reliance on temporary staff by the end of this year, when the contract with Grafton comes to an end.