Irish minister considers Bethany Home inquiry call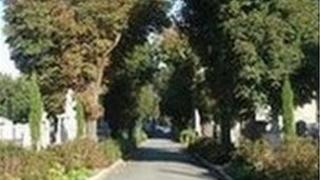 Irish justice minister Alan Shatter is considering calls for an investigation of the former Protestant-run Bethany Home in Dublin.
Up to 219 children born at the mother and baby home between 1922 and 1949 died.
In 2010, 40 infants from the home were discovered in unmarked graves in the nearby Mount Jerome cemetery.
Former residents have accused the government of religious discrimination.
They are angry that they have been excluded from an investigation into allegations of abuse at the Catholic-run Magdalen mother and baby laundries.
Mr Shatter said there were no immediate plans to extend the McAleese Committee inquiry to include Bethany.
Despite state inspections at the Bethany mother and baby home, a number of unreported deaths happened in the 1920, 1930s and 1940s.
Speaking after 40 babies were found buried in unmarked graves, researcher Professor Niall Meehan said the actual figure was likely to be more than five times that.
Mr Meehan said that, at the time, state officials' response to the high infant death rate was "very indifferent".
The journalism lecturer published his evidence in History Ireland magazine.
It included his finding that, on average, one child died every three weeks at Bethany House.
Mr Shatter has rejected suggestions that the state's position on Bethany was motivated by religious discrimination.