Ulster Bank staff reject redundancy offer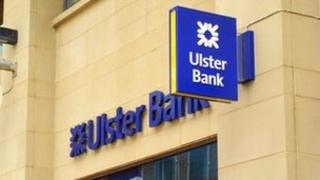 Ulster Bank staff have been given details of redundancy terms on offer but they have been flatly rejected by the finance union, the Irish Bank Officials' Association (IBOA).
It was revealed in January that 350 workers in Northern Ireland would go.
The Ulster Bank, which is owned by the Royal Bank of Scotland, is getting rid of 950 staff in total.
As the next step of the process the bank staff have been given details of their redundancy offer.
Anyone volunteering to leave is being offered three-and-a-half week's pay for each year they have been employed by the bank - capped at 104 weeks.
The most anyone can get is the equivalent of two year's salary, if they have around 30 years service.
The bankers' union, the IBOA, said the proposal was unacceptable and is lower than the terms offered during the last round of lay-offs at the Ulster Bank in 2009.
Unless the offer is improved, the union said, the matter will go to third party mediation.
The IBOA's Larry Broderick said he was very disappointed: "Ulster Bank in the past have paid significantly more to staff and facilitated early retirement.
"This offer is viewed as really derisory and also importantly there's no commitment that any redundancies will be on a voluntary basis.
"This bank is determined to force people out and that's not acceptable."