Women charged with withholding information on Comber murder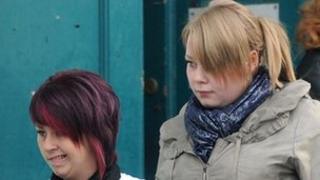 The daughter of a man charged with the murder of Philip Strickland in Comber last month has appeared in court charged with withholding information relating to the case.
Lesley Weir, a 20-year-old nursing assistant, appeared at North Down Magistrates' Court on Friday morning.
Her father, Jimmy Seales, and her brothers Jason and Ian Weir stand accused of the murder.
Melissa Dickson, 20, is also charged with withholding information.
The two women were released on bail.
The court heard that there have been a number of non-specific threats made against suspects and the judge ruled that the women's addresses be withheld.
Mr Strickland was shot a number of times near Comber almost three weeks ago.
To date nine people have appeared in court in relation to the murder which a judge was previously told was linked to drugs and criminality.