'Wealthy' to pay legal aid costs upon conviction: David Ford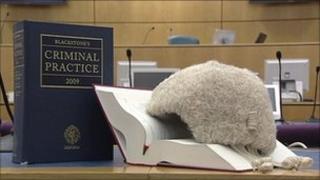 Justice Minister David Ford has published proposals to recover legal aid costs from wealthy defendants in the crown court cases.
Mr Ford said defendants who have sufficient means to pay for their legal representation in crown court cases should have to do so upon conviction.
He said the proposals would target those who can afford to pay, not those of modest means.
The proposals have been put out for consultation until 27 April.
"Legal aid costs in Northern Ireland are amongst the highest in the UK and I am determined to reduce spending where possible," Mr Ford said.
"I believe that where there are defendants in the Crown Court who can afford to pay for the costs of their defence they should be required to do so upon conviction."
Last year, solicitors in Northern Ireland went in strike after Mr Ford announced he wanted to cut the legal aid budget from £100m to £75m over three years.
Solicitors involved with criminal legal aid work claimed new fees made proper preparations impossible and threatened the right to a fair trial.
The strike was resolved after talks between the Law Society, the Bar Council and the Department of Justice.