Martin Sheen 'proud' of uncle's IRA past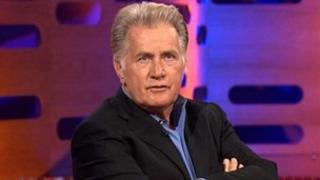 Hollywood actor Martin Sheen has said he is proud of his uncle's IRA past.
The father of screen actors Charlie Sheen and Emilio Estevez said he was also relieved to discover that his mother's brother, Michael Fieland, from County Tipperary, had no part in the assassination of Irish republican leader Michael Collins.
Sheen, 71, found out about his family links to Ireland's War of Independence while taking part in the US version of the hit genealogy television series Who Do You Think You Are?.
During the programme's making, he visited Dublin's Kilmainham Gaol and spent time in the cell where it is believed his uncle was imprisoned.
"I'm enormously proud of him," he said.
"I would like to hope that if I had been here in Ireland at the time, I would have followed him and I would have been as committed as he was."
Sheen is renowned for his roles in the films Apocalypse Now and Wall Street and the television series West Wing.
He said his uncle was an Irish volunteer who fought those who supported the Anglo-Irish treaty during the Civil War in the early 1920s.
"When I was in Ireland and discovering the involvement of my uncle in the Rising and the Civil War, I was afraid he might have been in on the plan to assassinate Mick Collins," he added.
"But as it turned out he was in prison when Mick Collins was assassinated and I was deeply relieved."
Sheen, whose real name is Ramon Estevez, was born to a Spanish father and Irish mother, Mary-Anne Fieland, from Borrisokane in County Tipperary.
She emigrated to the US during the Irish War of Independence, and he believes she was sent away to protect her from violence.
Sheen returned to his mother's home country in 2006 when he took a place as a mature student at the National University of Ireland in Galway.