Pre-tax loss for Belfast hotelier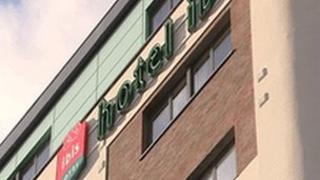 One of Northern Ireland's largest hotel groups has reported a pre-tax loss of £229,000 for the year to April 2011.
The previous year it reported a profit of £118,000.
Turnover at Andras House remained steady at £12.6m, but a £1m write down in property values and increased finance costs pushed the company into the red.
The company, controlled by Lord Rana, owns five hotels and a serviced apartment block in Belfast.
The directors said the result for the year was "acceptable" against an economic background "characterised by constraint and uncertainty".
They added that the group remains in a "strong financial condition" with a net worth of £71m.
Andras House also owns offices in Belfast but the vast majority of its turnover comes from the hotel businesses.
It owns two hotels operating under the Ibis brand in Castle Street and University Street, another in University Street under the Holiday Inn Express brand, the Days Hotel on Great Victoria Street and the Ramada at Shaws Bridge.
Over the year, the number of employees rose from 278 to 282 but the total wage bill fell from £4.3 to just more than £4m.
The group has plans to develop hotels in Portrush and Londonderry and a mixed use project close to the Days Hotel.