Fivemiletown man on cathinone import charges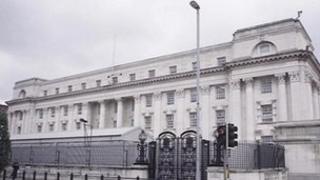 A County Tyrone man has been charged with trying to import £265,000 worth of drugs into Northern Ireland.
Andrew Kirkpatrick, 22, of Clabby Road, Fivemiletown, allegedly tried to buy cathinone, a stimulant similar to mephedrone from China.
The prosecution said he oversaw money transfers of £52,000 for it and was the "brains behind the operation".
He is charged with transferring criminal property and conspiracy to fraudulently import Class B drugs.
It was claimed at the High Court on Friday that Mr Kirkpatrick supplied the money to a company in China for deliveries made to a co-accused's address.
The judge was told his computer had been analysed and evidence uncovered of payments from his bank account.
"Police believe Kirkpatrick transferred these funds to pay for a shipment of drugs, a shipment valued at £265,000," a crown lawyer said.
She alleged there was evidence of emails being sent to a company called China Enriching Chemicals (CEC).
According to the prosecution, this firm is responsible for shipping large quantities of mephedrone to the United Kingdom and other countries.
Adjourning the case for a week, Mr Justice McLaughlin ruled that Mr Kirkpatrick could be released until it comes back before him.