Brick thrown through car window in west Belfast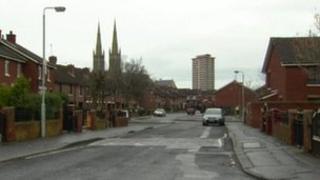 A woman has suffered minor injuries after the car she was a passenger in was attacked in west Belfast.
A gang of youths threw a brick at the the car as it travelled along Albert Street shortly after 21.45 GMT on Saturday.
The driver drove away and dropped off his two female passengers before returning to where the gang had attacked his car.
After stopping the car he was dragged out and assaulted.
His car was then taken and driven away by the youths and was found at Fingals Court a short time later.
The man's injuries are not believed to be serious.