Lurgan stabbing leads to attempted murder charge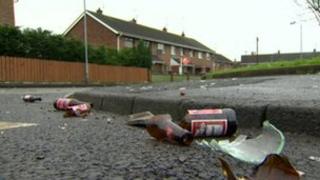 A 41-year-old man has been charged with attempted murder after a police officer was stabbed.
He will appear at Lisburn magistrate's court on Monday morning.
The officer suffered injuries to his head and face in the attack in the Kilwilkie estate in Lurgan.
The police officer was responding to a report about a domestic incident when he was slashed with a knife. He suffered serious injuries to the back of his head.
He is being treated in hospital where his condition is described as stable.
It is believed the man had locked himself into a house with two young children and when the police tried to get inside, the officer was attacked with a knife.
Meanwhile, other police officers at the scene came under attack from petrol bombs and bricks.
Policing Board chair Brian Rea condemned the violence.
"Disturbingly other officers who remained in the area after the incident occurred were attacked with petrol bombs, bricks and bottles," he said.
"This type of behaviour is totally unacceptable and I strongly condemn those who took part in this violence."
Supt Jason Murphy said he had "nothing but praise" for the officers.
"Their main priority was to ensure the safety of all those involved, particularly the two young children in the house," he said.
"These are the officers who are keeping our community safe.
"It was more than disappointing to see those officers come under attack."
Sinn Fein MLA John O'Dowd described the incident as a "difficult situation" and said his thoughts were with the injured police officer and the young children involved.
"The police were there assisting the community and if it wasn't for the police being there, we could be dealing with a much more terrible situation than we even are at this time," he said.
"It's up to the individuals to explain why they thought attacking the police who were serving the community was justifiable, because I can assure you, the vast majority of the people in Kilwilkie and I do not think it was justifiable."