Derry woman charged with attempted to murder son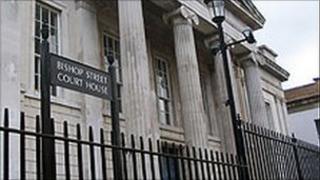 A 50-year-old Londonderry woman has appeared in court charged with attempting to murder her son at the weekend.
Treasa Doherty, a teacher, was charged with trying to kill her son Sean O'Connor after an incident in their Garden City home on Saturday night.
Mr O'Connor, 20, is on a life-support machine in the Royal Victoria Hospital in Belfast where he is being treated for a serious head injury.
Ms Doherty was released on bail.
She wept and shook her head as the attempted murder charge was read out to her by the clerk at Londonderry Magistrates Court and nodded to indicate she understood the charge.
An investigating police officer told District Judge Barney McElholm that he was opposing bail in the case because he believed the defendant's long standing alcohol addiction could result in her committing further offences.
'Alcohol difficulties'
Defence solicitor Seamus Quigley in applying for bail said his client had no previous convictions.
He said both he and the prosecution accepted that what happened resulted from a fall-out between a mother and son, both of whom unfortunately have developed difficulties with alcohol.
He said the defendant and her son lived on their own in their Garden City home.
Mr Quigley said a bail address at the defendant's father's Baronscourt home was available to the court and he said a family network had been put in place to assist his client.
He said she was also willing to seek medical assistance from her GP to deal with her long-standing alcoholism and was willing to reside if necessary in any inpatient treatment centre.
Mr Quigley said alcohol was the issue in the case. He said it was hoped that the defendant's son Sean would make a good recovery in hospital and he added it was not yet clear if the current attempted murder charge would remain in place.
A prosecution solicitor said he took no issue with the defence application.
The district Judge released the defendant on her own bail of £500 together with a surety also of £500.
He ordered her to reside at her father's home, not to consume or possess alcohol, not to enter licensed premises and to submit to unannounced police breath tests.
Mr McElholm also told the defendant to strictly adhere to all the advice of her GP and other councillors and if necessary to reside at an agreed inpatient treatment centre.
She was further ordered not to have any direct or indirect contact with her son.
The case was adjourned until 5 March for an update.