Titanic journey for 15-tonne sign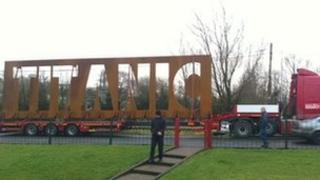 A 15-tonne Titanic sign has been transported from County Tyrone to east Belfast.
It was transported by lorry from the manufacturers near Cookstown to the Titanic Belfast building.
Cut from steel plates, it weighs as much as one of the ship's anchors,
After being driven along the M1 the huge sign was lifted off and placed in front of the signature building which will open in March.
Malachy Devlin, from MCD Engineering, said it had been a massive project.
"It took two weeks to make it and overall it's about 15 tonnes in weight. I'm really pleased to be associated with such a large project," he said.
"A lot of care has been taken in getting it loaded properly so it wouldn't get bent in any way - it's definitely is a one-off."