Saintfield home named 'House of the year'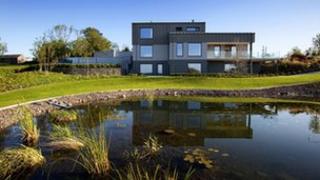 A house in Saintfield, County Down has been named BBC Northern Ireland's House Of The Year.
Drew and Pamela Wylie's Contemporary Barn picked up this year's overall title, beating off tough competition from 11 other homes across Northern Ireland in the grand final shown on BBC One Northern Ireland on Monday night.
The couple received their bespoke locally designed trophy at a ceremony hosted by series presenter, Laurence Llewelyn Bowen, in the BBC's Blackstaff Studios in Belfast,
"This is our home and it was a team effort - it was ourselves, the builders, all of our contractors and sub-contractors and our gardeners all of whom had a part in making it," Drew Wylie said.
Molly and Jimmy Armstrong from Fermanagh's Tattykeeran Church conversion was named as runner-up, while Jacqui and Alan Fraser's contemporary seaside house in Ballycastle took third place.
The Individual Merit Award went to Lee and Kate Jenkinson from Cloughey, County Down.
Throughout the series of programmes, 12 beautiful homes from across Northern Ireland were featured
The expert panel of judges viewed and evaluated the three houses in each programme and made their final decision on the winners.
They based the accolade on the following criteria: architectural integrity; interior design; use of space/circulation/layout/natural light/lighting; external merit; environmental credentials and overall ambience and appeal.
The judging panel was made up of Des Ewing, award-winning architect, American designer Michael Tavano and Suzanne Garuda, international interior designer, who has worked on everything from royal palaces to luxury yachts.