Darren Clarke wins sporting comeback award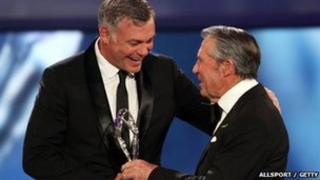 Darren Clarke has been honoured with a prestigious international sporting award for his dramatic win at the Open Championship last year.
The Dungannon-born golfer was awarded the Laureus Sports comeback of the year award at a ceremony in London on Monday night.
The 43-year-old won his first major at Royal St George's in Kent in July 2011.
Rory McIlroy also picked up the breakthrough of the year award for his win at the US Open in June 2011.
Clarke, who is currently ranked 55 in the world, was delighted to collect another award.
"I was going to say earlier when I was up there (on stage) accepting it, I have been the oldest person to receive the award," he said.
"I believe it has been a long time coming and I have worked very hard and eventually got there.
"For me the Open Championship is the biggest and best tournament in the world and I feel very fortunate that I got there in the end."
McIlroy became the second youngest player to win a major since 1932 when he won the US Open at Congressional by eight shots.
He said: "It was a great year to win my first major and to get into the top three in the world rankings.
"I think 2012 is going to be a really exciting year. I'd love to back up my US Open win with another major this year, and hopefully try and get to number one.''