HET rejects Gerry Kelly former RUC officers claim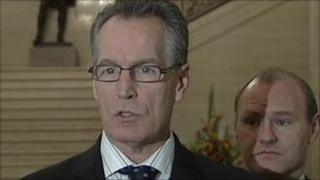 A claim from Sinn Fein that ex-RUC officers are investigating cases they were involved in has been rejected by the Historical Enquiries Team.
Hundreds of retired officers have been re-employed by the PSNI after leaving with Patten redundancy packages.
The government's spending watchdog is to investigate the PSNI's re-hiring of retired officers as civilian staff on temporary contracts.
Gerry Kelly has claimed there is a conflict of interest within the HET.
"Let me say that the board has become very frustrated at the lack of information which is why we need to go to an investigation here.
"Our job is oversight, it is to hold the police to account," he said.
The Policing Board was told last month that there are currently 304 retired police officers back working for the PSNI on temporary contracts.
The PSNI has defended the practice, saying the experience of the former officers was valuable and it was only a temporary measure.