Houses without sewage '20 years' after habitation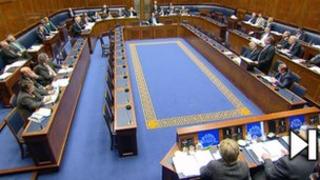 Some residents in housing developments are still waiting for the completion of roads and sewerage services 20 years after moving in, MLAs have been told.
The DUP's Michelle McIlveen proposed a review of the surety bond system whereby the developer guarantees that roads and sewerage services will be completed to the standard required.
It was only through the completion to this standard that the roads and services could be "adopted" by statutory bodies.
Ms McIlveen explained that the surety system required a financial bond to be held by a third party.
She gave examples of the 68 road bonds in her Strangford constituency where homes had been occupied for over a year.
In one particular development, in the village of Portavogie, the sewerage system had still not been completed after 13 years.
Jimmy Spratt, DUP, who chairs the DRD committee, said they took the matter "very seriously" and had begun an investigation into unadopted roads.
Sinn Fein's Sean Lynch commented that some of his constituents were living in streets that looked "more like a building site". He expressed his support for the motion.
Roy Beggs of the UUP expanded beyond the developments themselves to link roads, with specific reference to the towns of Larne and Carrickfergus in his East Antrim constituency.
He said permission had been granted for hundreds, perhaps thousands, of houses to be built without the spine roads being developed.
The SDLP's Joe Byrne said the planning authorities had a role to play, and Alliance's Stewart Dickson referred to residents who had to put up with driving their bins to another area to ensure their collection.
Regional Development Minister Danny Kennedy said he believed the current legislation "has served its original purpose quite well".
'Review of bonds'
"I believe that the current legal provisions for surety bonds for new housing developments are broadly adequate, if all parties comply with their responsibilities," he later added.
The minister explained the system regarding both roads and sewerage in some detail.
He noted that the regional development committee had begun an inquiry into unadopted roads.
"I would not intend to carry out a separate review of bonds before the committee inquiry has been completed," he concluded.
The motion was passed on an oral vote.