Stephen Carroll murder: Gun traces found on jacket in accused's home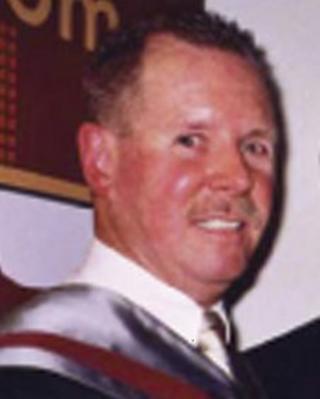 Gun residue, consistent with the bullet that killed Constable Stephen Carroll, were found on a jacket found in one of the accused's home, a court has heard.
On Tuesday, a forensic scientist told Belfast Crown Court that a black coat seized from Brendan McConville's home had particles on five surfaces.
Mr McConville, 40, of Glenholme Avenue, Craigavon and John Paul Wootton, 20, of Colindale, Lurgan, deny murder.
Mr Wootton's mother Sharon, 48, is accused of perverting justice.
The forensic scientist also examined another jacket found in the alleged getaway car which the prosecution said also belonged to Mr McConville.
On it, he said he found traces of an explosive compound commonly found in semtex.
The jacket, which was removed from the boot of Mr Wootton's car the day after the murder, also had cartridge discharge residue (CDR) on it, but it was off a different make-up to the residue found at the murder scene.
Similarly swabs on clothing seized from Mr Wootton also revealed CDR but again, their make-up was such that a different firearm was the more likely source, said the forensic scientist.