Stormont cuts consultants spend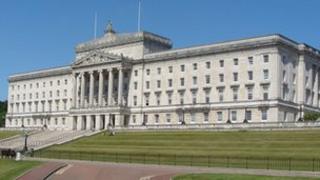 Stormont departments have dramatically reduced their spending on consultants.
But a Department of Finance survey has found many projects are still commissioned without tendering, without a proper business case, and are often signed off by officials who do not have the proper authority.
During the last financial year, departments spent nearly £16m on external consultants.
This was a 39% reduction on the previous year.
Finance Minister Sammy Wilson has welcomed the headline reduction, but a sample survey by his own department (DFP) found some serious problems.
Projects over £75,000 require DFP approval, but those under that limit are sanctioned by individual departments.
They should only proceed on the basis of a proper business case, but more than half were found to have unsatisfactory business cases.
More than one in 10 did not have any business case.
SDLP MLA John Dallat, a member of the Public Accounts Committee (PAC) called the report "very timely".
"The gravy train may not have been completely derailed but I can tell you it is well sidelined," he told Good Morning Ulster.
"I think it is very timely that this report has come to light because we can now speak to the accounting officers and point out to them that as recently as last year they have not been totally taking on board the recommendations made four years ago by the PAC.
"I think also we have got to reassure the public that every single penny of public money is accountable, that is properly spent and that anyone can tender for government contracts."
The survey also found a large number of cases where contracts were entered into without approval at the appropriate level.
"DFP believes the failure of departments to provide evidence of business cases for all consultancy projects, and the failure to have secured the necessary formal approval prior to entering into a contract, represent a failure of internal control and are matters of concern," the report said.
The report noted particular concern around contracts where there has been no competition for the tender, so-called single tender actions (STAs), with a number being given the green light without the necessary oversight of the department's boss - the permanent secretary.
Big earners
"The arrangements within a number of departments to ensure prior departmental accounting officer (permanent secretary) approval for this choice of procurement appear inadequate," said the report's author.
The departments spending the most on consultancy were the Department of Enterprise (£3.34m) and Office of First and Deputy First Ministers (£2.86m).
Those spending the least were Culture, Arts and Leisure at £190,000 and Employment and Learning at £160,000.
The biggest category of consultancy spend is in the area of property and construction (£2.21m), with technical support and legal services also featuring up the list.
The consultancy work is a big earner for a number of Northern Ireland firms.
KPMG topped the list this year with £1.22m in fees and PriceWaterhouseCoopers takes second place with fees of £940,000.
However, in a clear sign that Stormont is making strenuous efforts to keep cutting the consultancy costs, departments are reminded in a covering letter to the survey that new rules mean any project over £10,000 requires ministerial sign-off.
It is understood that some departments have set even lower limits with ministers wanting oversight of almost all projects.
With ministers now personally responsible, it is likely that next year's consultancy bill will fall further and that the target reduction of a further 10% will be met.