Dublin shooting of teenage girl barbaric says justice minister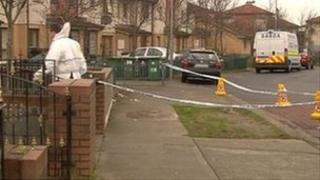 The murder of a teenage girl in a shooting in Dublin was "totally barbaric", Irish Justice Minister Alan Shatter has said.
Melanie McCarthy McNamara, 16, was sitting in a car in Tallaght with three others at about 22:30 GMT on Tuesday when a gunman drove up.
He fired at least once into the car shattering the window and hitting her in the head.
She was brought to the nearby Tallaght hospital, but died two hours later.
The car used in the murder was later found abandoned and Irish police are carrying out a forensic examination.
Detectives believe the girl may have been mistakenly targeted in a feud between families.
The girl's family said they wanted it to be known that she was never involved in anything and was in the wrong place at the wrong time.
Mr Shatter said the killing was absolutely horrific.
"All violent deaths are shocking but the killing of a young person especially so," he said.
"The Gardai have a major investigation under way, an incident room has been established, and technical and forensic examinations are being carried out. The commissioner will keep me informed of progress on the investigation."
Mr Shatter appealed to anyone with information to talk to the Irish police.