Men questioned on Larne illicit cigarette haul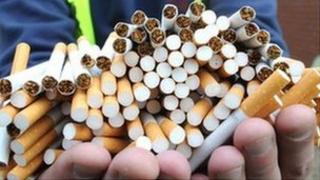 Over 1.2 million smuggled cigarettes have been seized in Larne, County Antrim.
Two men were arrested following the discovery of the cigarettes in a lorry at an industrial unit in the town.
The men have been questioned and released on bail.
Officers from HM Revenue & Customs (HMRC) and the PSNI made the discovery, and seized computers at three houses during follow-up searches in Antrim and Ballymena.
The cigarettes are estimated to be worth nearly £200,000 in unpaid excise duty and VAT.
John Whiting, assistant director of criminal investigation for HMRC, said people who bought smuggled cigarettes did not know what they were paying for.
"Tobacco smuggling is organised fraud on a global scale, encouraging and supporting criminality within our communities, and robbing taxpayers of millions each year in unpaid duty and VAT."
Investigations surrounding the cigarettes and the seized lorry are continuing.