Girl 'raped' in Belfast after internet chat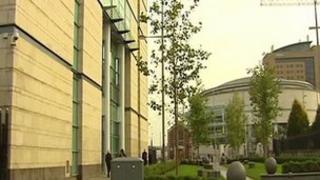 A teenager allegedly raped and sexually assaulted a girl after he befriended her through the internet, a jury has been told.
Andrew Mundy, 19, from Irwin Crescent in east Belfast, denies charges of rape and sexual assault on 9 September 2009.
Belfast Crown Court heard that when he first met the girl at Victoria Park, he told her: "I bring people in here and rape them".
He later claimed it was a "joke".
It was two days after that initial meeting that the alleged rape happened behind a bush on Bloomfield Walkway, according to the prosecution.
Prosecuting QC Donna McColgan told the jury how the pair first came into contact through the internet networking site, MSN, and then through texting to each others' mobile phone.
She described how, when the pair met, they went behind some bushes where Mr Mundy allegedly asked if he could touch her but was told no.
However, it was claimed "he ignored her" and allegedly put his hand down her trousers, grabbing her hand and forcing her to touch him.
The lawyer said the girl, who was 17 at the time, "just froze" but told Mundy: "Stop it, you're hurting me, I don't want this."
'DNA profile'
She added that although he did stop, he again attacked her after she walked away.
It was claimed that while sitting on her coat, Mundy "said something along the lines of 'give us a go'" and while she again protested that she didn't want to, the defendant allegedly raped the teenager.
The jury heard that when the alleged rape came to light, police forensically examined her jacket and arrested Mr Mundy.
During his initial interviews, Mr Mundy denied there had been any sexual contact, claiming the teenager was "talking rubbish".
However, in further interviews in December, it was put to him that his DNA profile had been found on his alleged victim's coat.
"At that point he completely changed his story to one where he alleged that yes, they had had sex but it had been consensual," Ms McColgan told the jury.
She added that Mundy denied raping the girl but that he admitted to police that "when he went out that day he went out with the expectation of having sex with her".
The trial continues.