No smoking in public advises Royal Jubilee midwife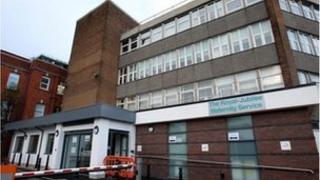 A senior midwife has advised staff at Belfast's Royal-Jubilee Maternity Hospital that if they intend to smoke, they should not do so in public.
In an email leaked to the BBC, staff were told that a member of the public had lodged a complaint.
It was over the sight of a member of hospital staff in theatre scrubs and hat smoking outside the maternity hospital.
The complaint was made at the height of the pseudomonas health care crisis.
The woman who complained said she had seen a member of staff smoking outside the maternity department.
The complainant said that she felt this was unacceptable and should be addressed.
At no time does the email advise midwives that they should not smoke, but in large bold letters, the senior midwife advises colleagues that if they intend to smoke during their breaks, they should not do so in view of the public.
In a statement, Belfast Trust said staff who smoked should use the designated smoking shelters.
"Those staff who choose to smoke on breaks must not leave the building wearing scrubs," the statement said.
It encouraged staff who smoke to avail of the help and support offered to stop, if they wish to do so.
"Staff who, in an emergency, must leave the building wearing scrubs must change into fresh scrubs before returning to clinical work. Staff have been reminded of the importance of complete compliance with this," the statement said.