Nelson McCausland to target irresponsible drinks promotions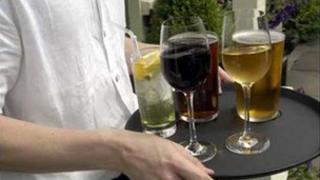 The social development minister has said he will move to ban some cheap drink promotions in Northern Ireland.
Nelson McCausland said he was concerned by promotions which encouraged irresponsible drinking.
He intends to ban cheap drink deals for young people after a man drowned in Belfast two weeks ago.
Joby Murphy, 20, from Glengormley died after falling from a bridge into the Lagan Weir in the early hours of 26 January.
His family said he had been at the Beach nightclub in the Odyssey Pavilion and had taken vodka shots at £1 a go.
His father said cheap drinks deals were "irresponsible".
At the time of the tragedy, Beach nightclub issued a statement saying it would be happy to abide by sensible minimum pricing and that its staff never serve anyone who is drunk. The club offered its sympathy to Joby Murphy's relatives.
On Wednesday, the minister said he had met the teenager's family last week.
"They highlighted to me their concerns about alcohol consumption, particularly promotions involving very cheap alcohol and its availability to young people," he said.
Mr McCausland also revealed that crime in the area close to the Odyssey had increased by 50% in 2011.
"I will bring forward regulations later this year banning certain promotions that encourage irresponsible drinking.
"My officials are also working with the drinks trade to develop a code of practice on promotions.
"There are clear health, as well as public safety issues to be addressed and I am confident our community will support positive action," Mr McCausland said.
He has convened a meeting to discuss ongoing concerns about excessive alcohol consumption and public safety at the Odyssey Pavilion and surrounding area.
Represented at the meeting were the Department of Health, Social Services and Public Safety; Belfast City Council; Translink; the Department of Culture Arts and Leisure; the Department of Justice; PSNI; NIFRS; NIAS and Pubs of Ulster.
Colin Neill, chief executive of Pubs of Ulster, said he supported the minister's commitment to address the issue.
"The responsible retailing of alcohol is of paramount importance to Pubs of Ulster and whilst the majority of the licensed trade acts in a responsible manner, there are a small number who choose to push the boundaries on drinks promotions.
"These irresponsible promotions have no place in our industry, as they appear to encourage the misuse of alcohol in towns and cities across Northern Ireland," he said.