'Satellite' Irish language school proposed in Maghera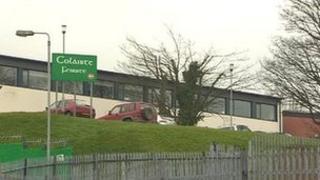 Four primary schools in County Londonderry could send pupils to an Irish language secondary school which is a 'satellite' of one in Belfast.
The school would be based in Maghera, but run by Northern Ireland's only completely Irish medium secondary, Colaiste Feirste, 40 miles away.
There would be two teachers and about 20 pupils in the first year.
Much of the learning could be done through computer link-ups.
There are not enough pupils to justify a complete new school, but the parents do not want to make do with a unit in an English language medium school.
They want total immersion in the language just like at primary school.
The site the parents have their eye on is the now empty Maghera High school.
It would need refurbished, but they think the idea represents value for money, even with the cost of transporting all the pupils to Belfast once a week.
The next step is to publish a development proposal at the end of February.
After consultation it will be Education Minister John O'Dowd's decision whether to go ahead.
However, his department recently lost legal action over its refusal to pay the cost of transporting pupils to the Belfast secondary school.