Dublin girl 'youngest ever victim of gangland crime'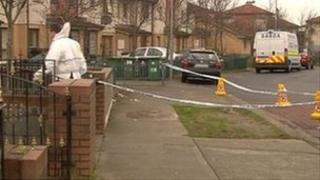 Irish police investigating the murder of a 16-year-old girl in Dublin have found what they believe is the murder weapon.
Melanie McCarthy MacNamara died after a gunman targeting another man in a drive-by shooting shot through the wrong window of the car in which she sat.
The shooting happened in Tallaght on Tuesday night.
She is believed to be the youngest ever victim of gangland crime in Ireland.
Police investigating the murder have recovered a shotgun, balaclava and gloves in a ditch close to where the getaway car was abandoned.
Ms McCarthy MacNamara was a settled traveller. Her family said she was "a complete innocent" who had never had an argument with anyone and was not involved in any feuding.
The stolen jeep used in the shooting has been forensically examined and spent cartridges have been found in it.
More than 50 Irish police officers are now working on the case, liaising with the family, carrying out inquiries and examining CCTV footage.