Losses increase at Northern Bank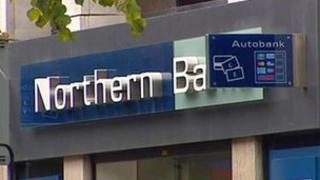 Northern Bank made losses of £217m in 2011, mainly as a result of bad commercial property loans.
That figure is more than double its losses for 2010.
The bank's sister company in the Republic of Ireland, NIB, lost more than 800m euro (£672m).
Both firms are owned by Denmark's Danske Bank which made an overall profit despite huge loan impairment charges on commercial property segments in Ireland and Northern Ireland.
Northern Bank's account statements made clear that the bank's property loans were responsible for the bulk of the losses.
"Loan impairment declined somewhat from the third to the fourth quarter," they said.
"Charges remained high, though, primarily because commercial property prices fell.
"The property development segment saw the highest percentage of charges, mainly because of lower residential construction activity.
"The property sectors in Ireland and Northern Ireland continued to suffer from falling property prices. Property developers in particular struggled with lower property values.
"The drop in rents and the rise in vacancy rates squeezed earnings on rental property, which in turn reduced credit quality."
Northern Bank have already announced four branch closures for 2012, but chief executive Gerry Mallon said "inevitably it will be more than that".
In terms of lending, Northern Bank say their mortgages have increased by 2%, but their loans to businesses have dropped by 11%.