The Chinese university professor, fine art consultant and a Belfast beauty salon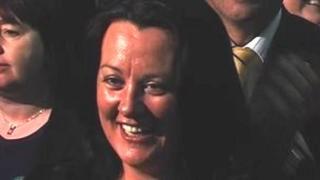 It's no secret some MLAs work outside of politics in areas such as farming.
But one of the newest assembly members has registered her work with the Amour Beauty Clinic.
The DUP's Paula Bradley, member for North Belfast, is an director in Amour Beauty Clinic and devotes two hours a month to the company.
At present there is no remuneration. So what does this work entail? Giving facials? Manicures?
"To the best of my knowledge she is not doing the odd spray tan," said a DUP spokesman.
"I think she's doing the books."
It's believed she set the company up some time ago.
Her party colleague, Trevor Clarke, MLA for South Antrim, is a partner in a car sales business. He works an average of three hours per week. The remuneration will be registered when the end year net profit is available.
The Ulster Unionist Danny Kinahan works up to four hours a week as a self-employed fine art and antiques consultant. It's not clear how lucrative this is, as the end of year profits are not available yet.
He's also a partner with his wife in Castle Upton Gallery but has told the BBC he is closing it.
"I am in the middle of closing the gallery and the fine art side is tiny. Probably two hours a week if that," he said.
"Now I am elected and the markets are poor it was sensible. I hate to let artists down and to lay someone off."
The SDLP's John Dallat earned just over £1,000 pre-tax for his annual work as director of the Kilrea, Rasharkin, Dunloy Credit Union. He works an average of five hours per month on this.
His party leader, Alasdair McDonnell is a partner in a small travel agency but the company is not in profit. He spends an average of one hour per month on this venture.
The DUP's David McIlveen lists GDM Properties, an estate agency. He devotes one hour per month to this venture.
There are a number of farmers, including the Ulster Unionist leader Tom Elliott who devotes 20 hours a month to his farm.
So has the deputy leader of the UUP, John McCallister. He farms an average of 25 hours per month. There was no profit in 2009, he states and the latest end of year figures are not yet available to be registered.
The DUP MLA for Newry and Armagh, William Irwin, states that he works an average of 12 hours per week as a dairy farmer.
DUP Health Minister Edwin Poots works an average of 40 hours per month on his farm and lists his return as "nil".
The Ulster Unionist MLA for Strangford, Mike Nesbitt, is director of Take I Take II Ltd, and notes the £3,000 annual remuneration is not a salary but a life insurance and pension contribution. He also notes that he received a £2,500 political support/electoral donation from the Ulster Unionist Strangford Association.
Sinn Fein's Oliver McMullan, under Land and Property, has declared that he receives rental income from a public house in Cushendall.
Unpaid registered activities
The DUP junior minister Jonathan Bell is now an honorary professor of media and communication. This was bestowed on him after he and his wife flew to China last July as the guests of the Zheijang University of Media and Communication. How did he get that one?
The Ulster Unionist MLA Basil McCrea is the unpaid chairman of Friends Forever Europe. Is that a dating agency? "Unfortunately it's not," he laughed. It is a peace-building charity founded in 1986 that brings young Catholics and Protestants to the United States.
Mr McCrea also registered his recent trip last December to Boston and San Diego to participate in the programme "developing and supporting young business leaders". This was largely paid for by the Irish Institute at the Centre for Irish Programmes, Boston College and the US State Department.
Sinn Fein's Mitchel McLaughlin declared his trip to Boston last November. He was part of a trade delegation from the north west and the cost was met by Golden Bridges (Boston-North West Ireland).
William Humphrey DUP MLA declared his trip to Taipei last January. This was to attend the World League for Freedom and Democracy Conference, the cost of which was met by the government of the Republic of China (Taiwan).